Ammyy Admin - is a free for non-commercial use application for remote desktop sharing and remote access that can be used for distant PC and server administration, access to remote office PC, remote client or relatives and friends' support or distant education purposes.
Ammyy Admin lets have quick access to a remote desktop over Internet without any troubles with firewalls or NAT. You can work with remote PC as if you're sitting right in front of it. Ammyy Admin provides hight standard data security with advanced hybrid encryption algorithm AES + RSA.
Ammyy Admin is a sophisticated and powerful software for remote assistance, systems administration, remote support and distant education. No installation or specific settings adjustments are required for start and work with the software. The remote desktop sharing starts within few seconds after Ammyy Admin has been launched.
The major advantages of Ammyy Admin are:
- 100% data transfer security
- wide range of usable features
- suitability for multi-task purposes
- easy use
You can quickly connect to remote computers that are behind gateways NAT without port mapping. You don't have adjust Firewall or VPN connection settings, exposing local PCs or remote computer network to a risk of security bug as Ammyy Admin is transparent for all known firewalls. Ammyy Admin's user interface is simple for use and can be managed by both advanced and beginning computer users.
You can also use Ammyy Admin for remote server control without human at the client side. With Ammyy Admin it's easy to control distant unattended computers, restart them, log-in/out, change users etc. using included Ammyy Admin Service for remote desktop sharing.
All data communications during the session including cursor moves, display images, keyboard input, files transferred etc. are encrypted with high class security algorithm AES and RSA which use different keys for each session.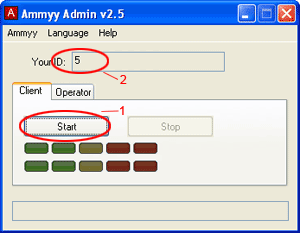 You can learn more about advantages of using remote desktop sharing and remote PC controlat the official Ammyy Admin web site.